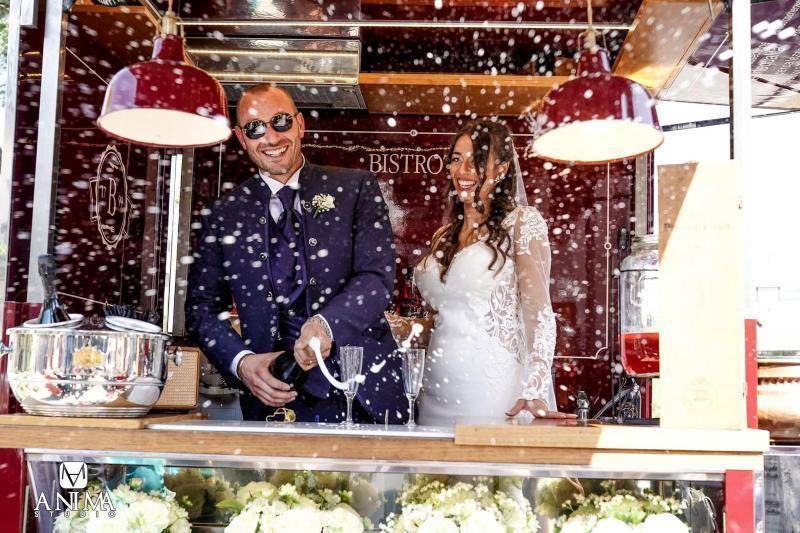 If you are organizing your wedding, Ape Bistrot is the winning choice to impress your guests by style and elegance! We can entertain your guests waiting for the bride at the end of the wedding ceremony outside the church or the City Hall with a light refreshments or an exclusive appetizer.
To make your day even more unique we can also take our Ape Bistrot to your wedding location and change it into whatever you want.
The only limit is your imagination … Ape Bistrot? Yes, I want it!
APE Bistrot… our suggestions
The light refreshments
If you'd like to quench the thirst of your guests outside the church the best way is our light refreshments such as Prosecco, Spritz, 'granita di limone' and much more, served with elegance and competence. Between signatures, greetings and photos surely everyone will be happy to drink something cold and start with the first toast!
The Appetizer (l'APEritivo)
The bee can become a small bar ready to serve the appetizer: Prosecco, spritz, alcoholic and not-alcoholic cocktails and some snacks to accompany these drinks.
Would You get married in Sorrento or Amalfi coast? our appetizer is an optimal and nice idea when it comes to entertain guests, for example during the exit from the church after the marriage celebration. Among signatures, best wishes, photos surely everyone will be happy to sip something cool, starting with the first toast!
The cold cuts'corner
The cold cuts'corner on three wheels specially revisited for your event. If you want to stand out, it's the right choice. The buffet includes a selection of local artisan cold cuts prepared to perfection.
Ape "Mortadella"
The perfect union between the "Schiacciata", a fragrant soft and slightly oily bread, and the Italian mortadella, with an unmistakable scent. This delicacy is made even more irresistible by the creaminess of the burrata (mozzarella filled with cream) and the unique flavor of pistachios and tomatoes. A perfect specialty for every event!
Ape Pizza fritta
Fried pizza is a typical Neapolitan delicacy with a unique and inimitable aroma, flavor and crunchiness. Our Pizza Master will prepare it in various flavors directly on our Ape: boiling oil, a few minutes of cooking, the wrapping paper, the smoke that comes out after the first bite, the explosion of flavor … fried pizza is a unique experience that will conquer everyone!
The ostricaro's corner
For those who want to give a classy touch to his wedding in Sorrento … just a touch and the Ape car turns into a mobile street fish shop, where can be served oyster opened on the spot accompanied by a glass of prosecco.
A high impact welcome for your guests or more ideas for a rich buffet.
Cakes buffet
Sweetness on three wheels: the Apecar can become a small street bakery to deliver sweets and candies or hot fried and sugared stuff on the spot. The Ape Car also be used to deliver favors, a nice way to greet guests too.
Brioche con gelato
If you want to impress your guests with a fresh and delicious snack or end your event in a special way, we recommend our soft brioches with everyone's favorite filling… ice cream. You can choose your favorite flavors and enjoy this delicious combination.
Angolo Sorrento
The Ape Bistrot "become GOLD". At weddings or events we can set up a corner with the typical products of Sorrento, handmade with the renowned lemons of Sorrento: lemon cream, limoncello, "lemon granita", lemon candies and chocolates.
Cuban Corner
One of the latest trends during the events is the cuban corner: a selection of rums, cigars and chocolate for a nice evening. So instead of doing it on an anonymous table, why not set up the Ape Bistrot with everything you need for the after dinner?
Chestnuts and Vin Brule
What could be more romantic than a wedding in the winter season? Chestnuts and mulled wine to welcome your guests while waiting the arrival of the bride out of the church or at the end of marriage celebration. An original way to distinguish and make unique this special event.
Cocktail bar
Ready to pull the trigger? Here's cocktail bar on three wheels, ready to serve cocktails and drinks.
In this case behind the Apecar's desk there will be a professional bartender.
Our partners
For a wedding of relaxation, light-heartedness, where everything is perfectly organized and tidy,
entrusted to the best professionals